It will take weeks to visit all of the noteworthy spots in Bali. Although Bali is only one of Indonesia's over 17,000 islands, it accounts for the majority of the country's tourists. Many guests never leave the island, which is understandable.
Despite its popularity and amount of development, Bali is far from being a concrete wasteland. The scent of paradise is maintained by green vines and blossoming flowers, provided you are not too close to one of the bustling roads. Bali's volcanic beauty and Hindu mood have kept it at the top of Asia's list of honeymoon destinations.
Related : Most Beautiful Places to Visit in the World
[toc]
1. Bali's South Beaches
Perhaps the primary reason visitors come to the island, South Bali's beaches are expansive, with superb sand and world-famous surf. Kuta is the party capital, with a plethora of nightclubs and gathering spots for exchanging stories about the day's surfing lessons. While rowdy and occasionally obnoxious, Kuta is conveniently located near the airport and is frequently the first stop for visitors to Bali.
Fortunately, Kuta's development has only absorbed a portion of adjacent beaches; there are still plenty of tranquil and romantic spots free of electronic music. Tuban, Legian, and Seminyak are popular beach towns that are more upmarket than Kuta.
2. Ubud
Although busier than ever before as a result of the success of the film Eat, Pray, Love, Ubud retains some of its beauty and acts as Bali's cultural hub. Ubud is difficult to leave due to its monkey forest, countless temples, and wonderful vibe.
Ubud is a center for holistic medicine; a slew of healers, artists, and creative types have relocated in the area, contributing to the town's healthy, serene aura. The area is densely packed with boutique stores, galleries, and spas. Ubud is often regarded as the best location to witness a traditional Balinese dance performance.
While in Ubud, be sure to visit the 11th-century Goa Gajah (Elephant Cave) temple.
3. Region of Kintamani
The lush Kintamani region, north of Ubud in eastern Bali, is an ideal place to escape the beaches. Mount Batur soars over the lush jungle and volcanic lakes that surround it. Small settlements dot the slopes of Mount Batur and the lake, providing many possibilities to purchase handmade handicrafts and see the native way of life. Pura Pencak Penulisan – Bali's oldest Hindu temple – is located at the summit of 333 leg-burning stairs and gives a breathtaking perspective of the island.
If descending stairs or ascending an active volcano is not your thing, you may simply relax in the volcanic hot springs and take in the view. A day's journey from Ubud will take you to the Kintamani region.
4. Lovina
The tranquil water, black-sand beaches, and dolphin viewing attract visitors to Lovina, a laid-back town on Bali's northwest coast. Lovina is well-known for its boat excursions for dolphin watching. Lovina's diving is outstanding; numerous dive shops offer both PADI certification training and day dives.
5. Tulamben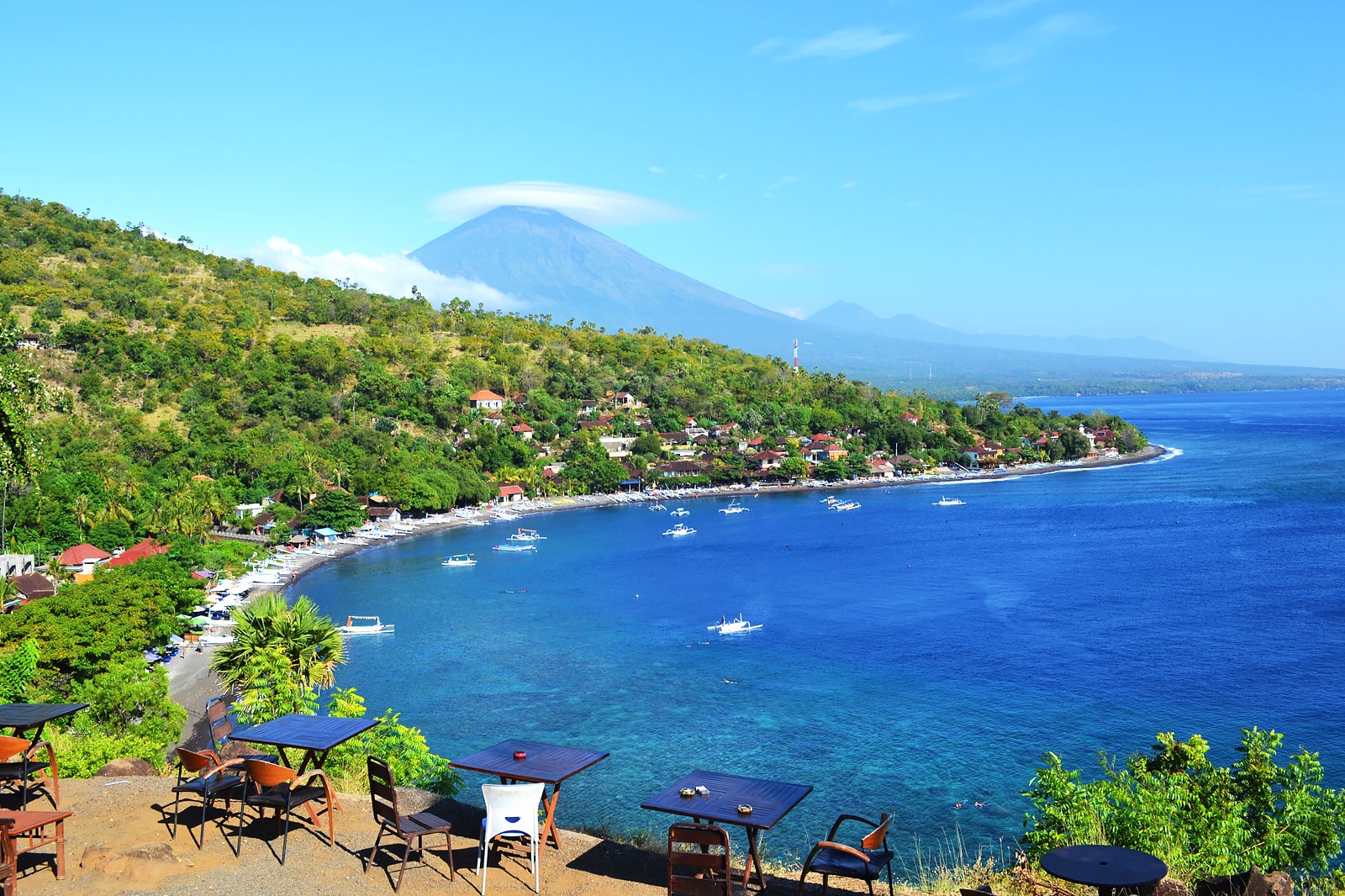 Tulamben, a small fishing village on Bali's northeast coast, is famed for the wreckage of the USAT Liberty, a US Army transport ship destroyed in 1942 by a Japanese submarine. The Liberty was taken back to Bali for repairs, but sank in 1963 when Mount Agung erupted.
The Liberty is an extremely popular diving site now since it is one of the few shallow, beach-accessible shipwrecks in the world. At a depth of 15 feet, snorkelers may see the ship's top.